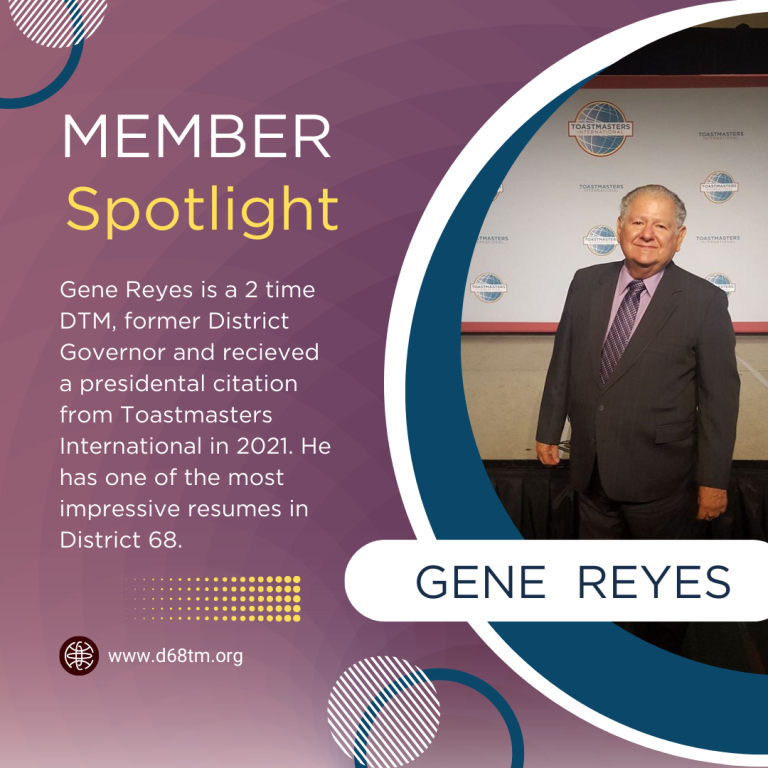 Gene Reyes
Educational Certificates: 2 time DTM, served as district officer when #1 in world international
Original Join Date: August 1969
Club: Naturally N'awlins #7207
Club meets: 2nd tuesday and last tuesday of the month 6:30pm
Email: gene_reyes@bellsouth.net
Click here to watch the Interview on Youtube Here!
Gene was a former supervisor at New Orleans Public Service, where they had a Toastmasters club. He is a proud graduate of Louisiana State University. Gene was invited by his immediate supervisor to join Toastmasters. He's been a member ever since and saw the benefit that Toastmasters offered to help him overcome his nerves and speech issues. He discovered that his Toastmasters club was used to scout out possible candidates for the supervisor position at his job and that's how he got promoted in his career at the time. At Toastmasters, he also enjoyed the free lunch that came along with meetings and networking within his company. Later on in his career, he became a transportation superintendent for Louisiana  Power & Light/Entergy corporation. After he retired in 1999, he continued attending regular Toastmasters club meetings to enrich his retirement life and continue learning because he has seen the power of Toastmasters. He was one of the many leaders who helped revive District 68 when it was in danger of losing its place due to poor club performance in 1981. Shortly after, District 68 was tied for #1 in the world.
The highlights of his Toastmasters career were: competing in the International Speech contest semi-finals in Vancouver, Canada in 2019. From 1981-1982 and 2000-2001, Gene served as District 68 District Governor earning presidential distinguished district and his second time as District Governor, District 68 earned presidential select district. He received a presidential citation from Toastmasters International in 2021. 
In addition, Gene was a tour guide with Tours by Isabelle New Orleans for 18 years and part of the local tour guide association. He served as president for the National Tour Guide Association. Gene was then elected to serve on the executive committee of the International Tour Guide Association. This was all accomplished prior to Hurricane Ida in August 2021. 
"Most people would ask me 'why would you stay in a club for 56 years?' and I would tell them I'm a very slow learner in a joking manner. It takes me a while. I have seen the power of Toastmasters. I have seen what it has done. I've seen it take people who stutter and can hardly speak or can hardly stand on their feet, then six months later, they're competing at a contest. That's a big part of this organization. It changes people's lives." 
Interviewed by Chisty Killelea
What's your original reason to join Toastmasters? What is your reason to continue in Toastmasters? 
I got invited by my immediate supervisor at New Orleans Public Service at my former job as a supervisor and I continue with Toastmasters because I have seen the power of Toastmasters changing people's lives. 
What aspect of Toastmasters surprised you after joining? 
The power of Toastmasters, how it changed people's lives and the results of mentoring in addition to helping people become better communicators.
Tell us about a time when you utilized something you gained from Toastmasters in your professional or personal life. 
Being an engineer working with other leaders and engineers, upper management talked about different problems at work. I was asked by my manager to take over a work meeting because of what he saw in me from my Toastmasters experience.
How have you changed since you joined Toastmasters? Give us an example.
I was never a competitive person or an outstanding speaker. I'm still not but I can organize and get my thoughts together quickly. The speeches helped me and boosted my confidence which helped me tackle more responsibility in my career. 
How has serving in leadership roles in Toastmasters benefited you? 
'I tend to be in a leadership role. I enjoy that. I was a 2 time district governor. I'm very proud of that. I also received the presidential citation from Toastmasters International. Because of my toastmasters experience, I did not hesitate to jump on my feet and start talking. I also took on leadership roles in different organizations. For example, I was recognized by the Young Leadership Council LLC known for shaping young leaders in New Orleans where I was selected as a role model for my leadership activities with other community organizations. I'm very proud of that as well. 
What would you tell a person who is on the fence about joining Toastmasters? 
You can have the greatest product or business in the world but if you cannot market it, you have nothing.  You must be able to present it so people can listen to what you are saying. 
What would you say to someone who doesn't want to join Toastmasters because they are afraid of public speaking?
Then, you came to the right organization. Do not miss the opportunity! There is no other organization that is going to give you an opportunity for immediate evaluation on how to improve your speaking skills and a way to improve your listening skills. Don't miss out on this opportunity to join the greatest speaking organization in the world!
Is there any additional information that you'd like to share in a short paragraph?
I've really enjoyed my career in Toastmasters. I ran for International Director 2 years in a row but was not elected. However, I made wonderful friends throughout the southeastern part of the country during the election. No matter what organization I joined, people recognized my abilities and asked me to run for office. I recommend Toastmasters to everybody.